In 2019 ArtsLibris will turn 10 years old. The event will take place on April 26th through 28th, culminating the week in which the city of Barcelona celebrates its renowned Book Day (on April 23rd).
ArtsLibris' anniversary edition will bring about important novelties. For the first time, the activities related to the fair will expand to several other venues in Barcelona, reinforcing the event's strong connection with the city in its entirety. A number of artists will carry out specific projects for the occasion, and the cinema —in this case, the documentary— will also be included in the program. In addition, ArtsLibris is preparing new editions: a new artist's book for the AL Series – published in collaboration with Fundació Banc Sabadell –, which in 2019 will created by Mexican artist Mariana Castillo Deball, and also a limited edition of gloves and tote bags designed by Spanish artist Dora García, and produced in collaboration with the Blueproject Foundation.
As for the fair itself, in 2019 the presence of international exhibitors – specially from Latin America – will be particularly relevant, and a new section, devoted to digital publishing, is in preparation.

Publishing Practices: Photobooks, Artistic Research Publications, Fanzines
This seminar sets out to analyse some of the specific forms of publishing which are common in our present time, focusing on three types of specific artistic practices — photography, artistic research and fanzines — which, in turn, generate their own equivalent types of publication: photobooks, the publications as an outcome of artistic research, and fanzines. Conversations will consider, among other matters, aspects such as the historical antecedents of these practices, their essential motivations, their "alternative" status in relation with true mainstream publishing into which they don't entirely fit, their ability to infiltrate the conventional distribution channels and to appropriate or create their own ways of circulation, and their complex relationship with a publishing industry that is undergoing a process of transformation and, simultaneously, with the world of art.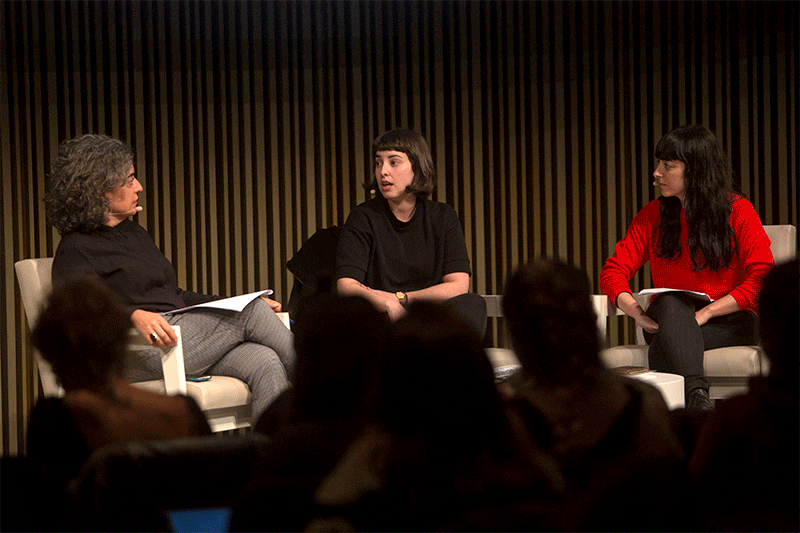 The seminar is structured in three conversations:
17.00 – 17.15: Presentation
17.15 – 18.15: Twists and Turns of Photobooks. Laia Abril talks with Horacio Fernández
18.15 – 19.15: Artistic Research as Method, Books as a Result. Mariana Castillo Deball talks with Hiuwai Chu
19.15 – 19.30: Break
19.30 – 20.30: Publishing on the Margins: Fanzines. Andrea Galaxina talks with Clara-Iris
Film Series: Tell me a book. The artist's books in the cinema
Tell me a book. Los libros de artista en el cine will take place on Saturday 27 April at the Auditori de la Fundació Tàpies, and will be dedicated to the documentary on the artist's book. Three medium-length films are part of the programme: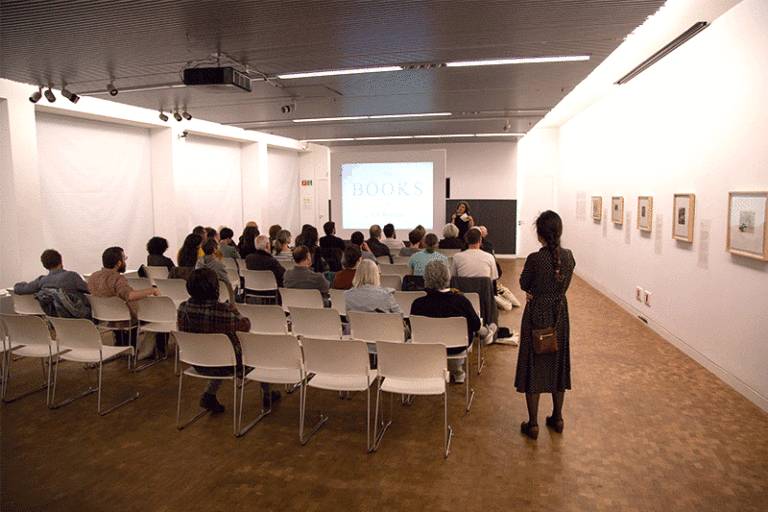 The Books of Ed Ruscha
Ed Ruscha (director), Mason Williams
1969
38 min
V.O. in English without subtitles
In this piece, which forms part of Ed Ruscha's short filmography, the Californian artist composes an ironic "documentary" about his artist's books in which the absence of a previous script and the supposed solemnity of the register are combined, as in his other films, in an amusing autoparody. The protagonist of the film is guitarist and composer Mason Williams, who, with a casual attitude that at times borders on irreverence, leafs through, rereads and comments on the iconic titles of Ruscha -Twenty-six Gasoline Stations, Some Los Angeles Apartments and Every Building in Sunset Strip, among others- while having a drink and enjoying the sunset.
Bookworks Revisited. Part 1: A Selection
Ulysses Carrion
1987
36′ 33" min
Video transferred to digital
Color, sound
V.O. in English with Spanish subtitles
Looking in front of the camera and holding the books in his hands, in this film Ulises Carrión comments, one by one, about ninety titles from his archive. His comments and descriptions act as an excellent introduction to the genre of the artist's book, in which Carrión explains the various ways in which artists have undertaken the creative reinvention of the book, while claiming their status as works of art in their own right.
Livres 1
Valérie Mréjen
Produced by Association Bob Calle du Livre d'Artiste, Paris
2019
15 min
Digital Video
Color, sound
V.O. in French with Spanish subtitles
On the occasion of the launch of the Bob Calle Prize for the Best European Artist's Book, instituted in 2017 by the Association Bob Calle pour le Livre d'Artiste (Paris), the French visual artist and writer Valérie Mréjen has made a documentary with interviews with artists who have played a relevant role in the genealogy of the conceptual artist's book, such as Annette Messager, Jean Michel Alberola, Christian Boltanski and Peter Downsbrough, as well as the two winners of the first edition of the Bob Cale Prize: the Swiss Stevan Sulzer and the Catalan Francesc Ruiz.
Cycle curator: Mela Dávila Freire. | Calendar: Saturday 27 April 2019, at 18.00 h. Duration: 1 h. Price: 4 € and free with entrance to the ArtsLibris fair. | It is not necessary to make a previous reservation. Activity in collaboration with ArtsLibris Barcelona – Madrid – Lisbon.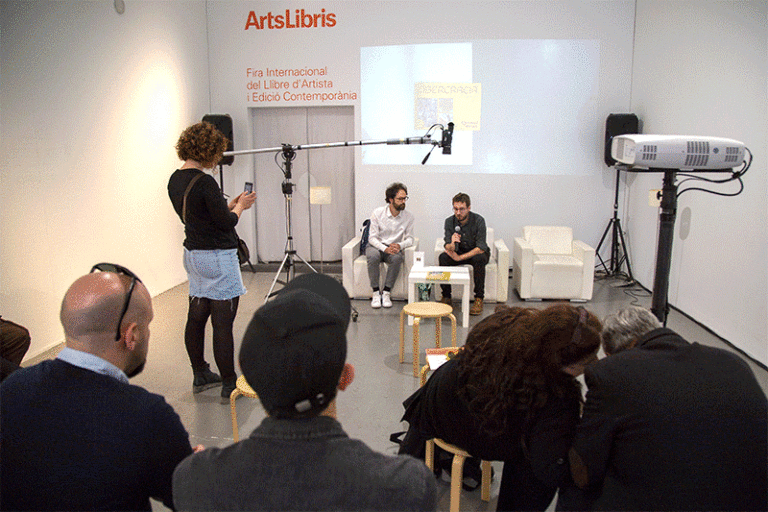 16:00 – 17:00 
NO PIC, Andrés Galeano
The book NO PIC (self-published, 2018) by Andrés Galeano is a collection of digital images found on the Internet, and used to show that "the image is lacking". These images, in a way, deny the image. They are "no-photos" that appear when a particular product is not available or a user doesn't want to display a profile picture. They are, in fact, paradoxical images.
17:00 – 18:00
Seduction Artifacts: Libraries acquire jewels so that you can wear them, Javier Pérez Iglesias
A performance, with all the named documents putting in an appearance, in which the talk is about the library's purchasing policy as a space for seduction. Starting from the experience in the Library of the Faculty of Fine Arts of the Complutense University in Madrid, a model is presented of a participative library open to bastard, anomalous, unclassifiable, capricious publications. A world of artist books, photobooks, object books and non-books that speak, explain and are important to us.
18:00 – 19:00
Self-publishing as a form of resistance. Toni Amengual in conversation with Horacio Fernández
The tasks of editing, publishing and distributing a book are part of the creative process and can therefore be addressed as depending on the role of authorship. A certain knowledge and involvement required by desktop publishing are, according to Toni Amengual, necessary to understand how the world of photobooks works from within. In this talk, Amengual and Horacio Fernández will discuss these processes, considering whether the true "photobook revolution" may not have been the "revolution of self-publishing".
19:00 – 20:00
Prix Bob Calle 2019 du Livre d'Artiste, conversation with Laurence Dumaine-Calle
Bob Calle, founder and first director of Carré d'Art at Nîmes Jean Bousquet (1988-1993), was passionate about artist's books. In homage to his interest, the Bob Calle Association for the Artist's Book (Paris) intends, by awarding an annual prize, to contribute to the recognition of this artistic format. Laurence Dumaine-Calle, director of the Association and the main promoter of the award, will discuss the first two editions, delivered to 2017 (when one of the two winners was Francesc Ruiz) and 2019.
12:15 – 13:00
Red, Muntadas
On 1 October 2017 there were commemorations of the 68th anniversary of the creation of the People's Republic of China. During that day Muntadas, then in China, busied himself identifying and photographing images and graphic elements in which the colour red, the Chinese "national" colour, was predominant. In this conversation, the artist will talk with Mela Dávila about the various materialisations of the Red project, which arises from that photographic collection.
13:00 – 14:00
Post-Print: Why Are We Here?                                   
Together with brand-new-life.org, avant.org, dpr-barcelona.com and some other friends, Continent, an experimental publication and on-line magazine group, has decided to accept the invitation to participate in ArtsLibris preparing a "stand as debate", where throughout the days of the fair questions will be asked such as "What does it mean to be on-line at a publications fair?" "What could it mean to be post-print?" "How to define the desires, projections and concepts that this name involves?"
16:00 – 17:00
Undercover – Motto Books, with Alexis Zavialoff
Alexis Zavialoff, founder of the bookstore, distribution and publishing company Motto Books, will talk about non-conventional publishing models and their contexts, showing examples of bootleg editions and other difficult editorial experiments. Addressing the topic through a series of anecdotes, this presentation aims to take a look at the work of those artists who push the limits of the publication.
17:00 – 18:00
Glances, Alicja Kwade
Blueproject Foundation and author Pol Capdevila present Glances by Alicja Kwade, a catalogue of the exhibition conceived by "Il Salotto" of the Blueproject Foundation. This book reveals the artist's interest in physical and perceptive experiences and her way of inhabiting space and time, with three works: Clout-Count, a large-scale sound structure; Between Glances, sculptures that toy with the reflection and concept of double; and In-Between, pieces that capture experiences of time.
18:00 – 19:00
Quo vadis, artist's book fairs?, Bia Bittencourt and Ginés Martínez
Bia Bittencourt is the founder of Feira Plana – Festival International de Publicações of São Paulo, which started in 2011. Ginés Martínez set up Ediciones Inclasificables, which has been held in the Casa de las Conchas public library in Salamanca since 2012. To mark the tenth anniversary of ArtsLibris we are sharing a conversation with them both to talk about what artist books fairs are and what they would like them to be, in a context of change and transformation as fast as the present day.
19:00 – 20:00
Presentation of the Art Byblio 2019 Awards
For the third year La Llotja Art School, in collaboration with ArtsLibris, has convened the Art Byblio Award, to which all students of art on a national level can apply. With this award, La Llotja aims to promote the production of artist's books in the context of art schools. This conversation will launch the winning projects in 2019, which will become part of the artist's book collection of La Llotja.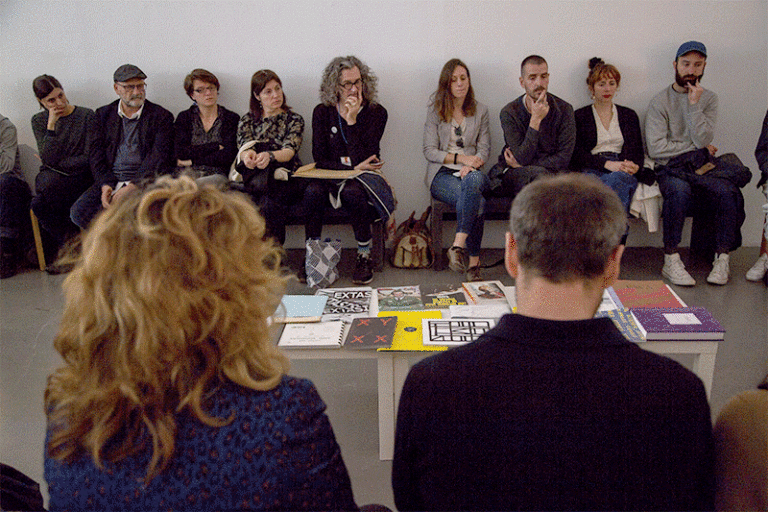 12:15 – 13:00
Dieter Roth and the Icelandic tradition, Silja Pálmarsdóttir and Dulkápan
In 1957 the German artist Dieter Roth married Sigríður Björnsdóttir and moved to Reykjavik with her. In Iceland, far from the centres of European modernity, Roth published a series of artist books and, with the Icelandic poet Einar Bragi, founded the publisher forlag ed. Since then, Iceland has kept up a rich tradició in the field of the artist book, almost unknown to us. Silja Pálmarsdóttir talks with the publisher Dulkápan about this tradition.
13:00 – 14:00
Eloi Gimeno, in memoriam
Now that Eloi Gimeno, who was passionate about books, typography and photography, is no longer with us, we, his friends, wish to keep his memory alive, and have undertaken to order and preserve his work and his memory. This is the first of the events addressed to that aim that we will organise during 2019: a assembly around Eloi Gimeno, a plural act in which the work groups will be presented that are beginning to gather information and documentation about his legacy.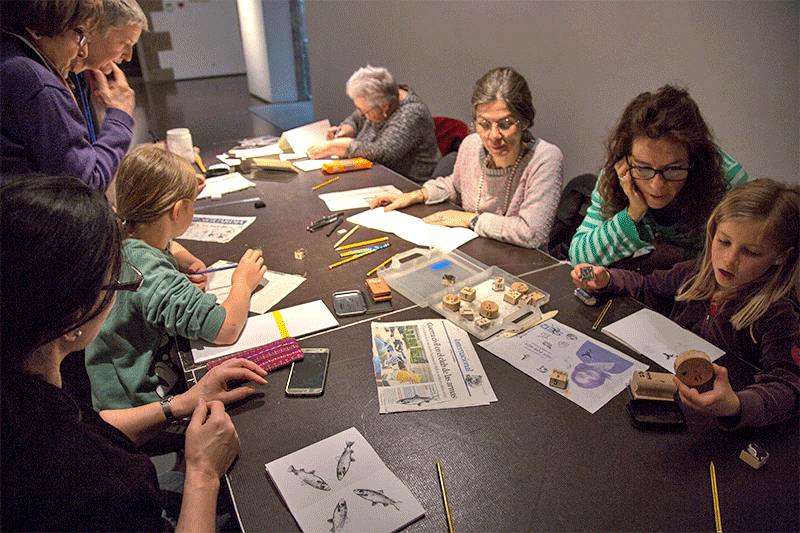 Bookbinding workshop
With the students of the Arts del Llibre of the Escola Llotja, Barcelona
In this bookbinding workshop we introduce the participants to the creation of two books made with seen and unseen stitching of different materials.
Hours: Friday 26 April from 19:00 to 20:30 and Saturday 27 April from 17:00 to 18:30
Duration: 90 min.
Registration: €5
Up to 12 participants
Activity recommended for people aged 18 and over.
What forms does a book take?
With the group My Bookcase, Barcelona
Books are nomadic objects. They travel with us and they can be found in parks, metros, buses and cafés as often as on the bed or by the side of the bath or in your handbag. My Bookcase proposes a workshop that will explore the different forms that books can take, and collaborative shape is given to a place where books rest between moments or acts of reading. This act of "thinking with the hands" is reflected in the material nature of the book while we build the best structure to keep it in transit between readers.
Hours: Saturday 27 April from 17:00 to 18:30
Registration free
Up to 12 participants
Activity recommended for people aged 16 and over.
Animaladas
With Moreno&Soria, Terrassa
Starting from the book Mundo Animal by José Antonio Soria, the participants in the workshop create their own artist book to take home with them. The book is made on a leporello, a folded leaflet on which the participants print the heads of animals, created in stamps, that will later be used to draw various scenes, with which they convert and transform them into new characters or personalised animals.
Hours: Friday 26 April from 17:00 to 18:30 and Sunday 28 April from 12:30 to 14:00
Registration free
Up to 12 participants
Activity recommended for people aged 16 and over.
Sun Ra. En algún lado y en ninguno. Poemas, by Mariana Castillo Deball, Tania Islas Weinstein & Alberto Ortega
En algún lado y en ninguno is a collection of poems by the jazz musician and poet Sun Ra (Alabama 1914 – Birmingham 1993), selected and translated into Spanish by Mariana Castillo Deball, Tania Islas Weinstein and Alberto Ortega.
The adventure began in a library that loos like a spaceship, beside a monument in the shape of a burned sweet that celebrates the first atomic reaction generated by human beings with a plaque that shyly suggests that this powerful energy could be used for beneficial ends. Inside this lunar library, in the University of Chicago, is the special collections centre, where the papers of Alton Abraham – Sun Ra Collection, comprising the period 1822-2008, are kept. Alton Abraham (1927-1999), entrepreneur and hospital technician, was a friend and partner of Sun Ra, and throughout his life he collected manuscripts, ephemeral documentation, artefacts, photographs and video and audio recordings of the work of Sun Ra and his collaborators. In Abraham's archive, which occupies 48 m of linear shelf space and consists of 146 boxes and a large file, there is, among other items, Sun Ra's briefcase, containing his lawyer's card, the insurance receipt for his car, a cabalistic amulet and a million dollar bill perforated in the centre.
There we also found Sun Ra's typed poems, with handwritten corrections and in various versions. His poems generate a parallel geometry, a world that is precise and ambiguous at the same time. A sidereal enthusiasm made us think that the translation of his poems into our mother tongue could bring us close to his cosmos, and simultaneously allow us to share them with the Spanish-speaking firmament.
Sun Ra. En algún lado y en ninguno
Selection and translation by Mariana Castillo Deball, Tania Islas Weinstein and Alberto Ortega.
Barcelona and Berlin: ArtsLibris / Bom Dia Boa Tarde Boa Noite, 2019
80 pages
B/w, no illustrations
Offset printing, 15 x 23 cm
Print run: 1.000 ex.
Mariana Castillo Deball (Mexico City, 1975) moves between the sciences and the visual arts in an artistic practice that usually includes and reflects long processes of research. These processes often allow her to study the different ways in which objects can be read, from the historical context where they were created to their current reality. Castillo Deball's installations, performances, sculptures and publishing projects arise from the recombination of different languages, and from collaborative work.
Seeking to start a dialogue with institutions and museums beyond contemporary art, Castillo Deball collaborates with ethnographic collections, libraries and historical archives. She often produces multiples, books or objects with different uses and formats, intended to explore how we might generate new territories. In this way, creating links among the fields of anthropology, philosophy and literature, Castillo Deball is inspired by a wide variety of sources, while participating in the exchange of knowledge understood as a transformational process for everyone involved.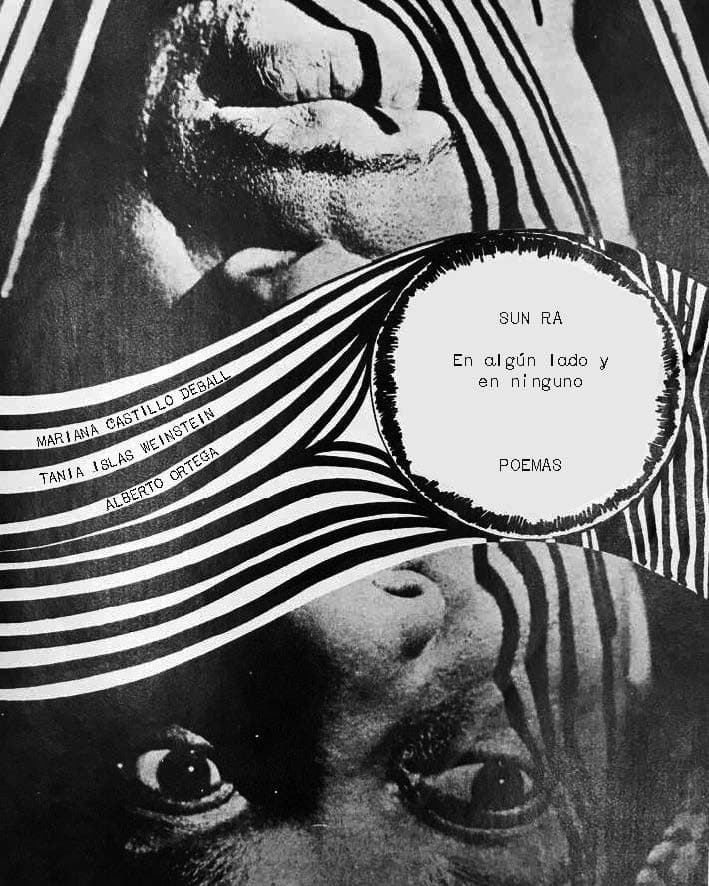 Limited Edition ArtsLibris 2019
In 2019 Dora García is the creator of our editions of cotton bags and gloves, with the support of the BlueProject Foundation, featuring the first sentences of a variety of classics of universal literature.
Del 26 al 28 d'abril | Arts Santa Mònica
To mark its 10th anniversary, ArtsLibris has made five commissions to artists or groups who share a great interest in printed supports in their creative practice. The result of these commissions will be seen in the context of ArtsLibris Barcelona 2019.
Guerrilla Girls
If you keep women out, they get resentful
Since their foundation as a group, the Guerrilla Girls have used printed formats as a support for getting their messages across, combining an acid tone of irony with powerful feminist claims aimed at denouncing the patriarchate that dominates and sustains the art system. Their posters, postcards and stickers —which are constantly republished—, classic merchandising items such as porcelain cups, T-shirts, pen cases etc., and public actions, comprise the communication strategies by which this group has become so well known. The postcard that ArtsLibris republishes on the occasion of its 10th anniversary is one of the group's iconic pieces. On it, the sentence "If you keep women out, they get resentful", by the exponent of the philosophy of calm and peace Confucius, appears illustrated with the face of a gorilla in an attack of rage.
The Guerrilla Girls were founded in New York in 1985. Their members are female artists whose identity remains anonymous so that the interest that the group arouses focuses on their protest activities, and not on the work or records of its members. The goal of the group is to denounce discrimination based in gender and race in the world of contemporary art. Their methods are associated with "guerrilla tactics": putting up posters, protest actions, distribution of printed material, etc. in order to keep their identity secret, in their public appearances the Guerrilla Girls always wear gorilla masks, the animal being their identity symbol.
Muntadas
Red
On 1 October 2017, the People's Republic of China commemorated its 68th anniversary with various celebrations. At the time, Antoni Muntadas (Barcelona, 1942) was finishing his project Asian Protocols (Similitudes, diferencias y conflictos 2011-2018), that had linked him to China. So, during that 1 October, he set out to identify and gather images and graphic items in which red, the Chinese "national" colour, was predominant.


The project Red, which arose from that collection, materialises the context of ArtsLibris with the publication of a collection of postcards that bring together a selection of the images that Muntadas made on that 1 October, images which set a contrast between the spectacular and banal aspects of capitalism and the colour red, the element that identifies communism par excellence.
 Antoni Muntadas' work covers a large number of disciplines and formats, among which printed publications of all kinds (books, posters, postcards, advertising billboards, stickers, etc.) have always held an outstanding place as an essential part found in many of his projects. In Muntadas' works the media, and the power relations that these media unleash or reflect, are very often his object of analysis, study, criticises and source of materials, which is another of the constants throughout his career, in the same way as a markedly international perspective that reflects his untiring activity worldwide.
Àlex Gifreu and Cecilia Martín
Books never die
 "It is a striking truth. An image / manifesto committed to the power of the book to transmit ideas, concepts or experiences that will last in time. A photograph of a desk in an Oslo office together with the sentence Books never die that follows the postulates of cut-out typography used by Raoul Hausmann, the situationists, the anonymous postal messages sent to demand something or some pamphlets from May 68 make up the back of the manifesto.
Books never die celebrates the durability of the book, its permanence, its other uses and, precisely for that reason, its physicality. A book is more than words printed on paper; it is the material form of an idea, of a thought that can be passed from hand to hand, from year to year, from place to pace. The book as an expression of resistance."
Àlex Gifreu is not a typical designer. His professional practice knows no limits. Before founding his present studio, Bureau, he was a cofounder of the graphic studio Bis. In 2000 he created the publishing label Cru, which has now issued 52 artist's publications. Gifreu is a key figure in defining the purpose of graphic design applied to art as a medium to "order other people's ideas on paper". For him, the book is a extension of his work.
Cecilia Martín is a researcher and brand and communication strategist for art and culture. She is dedicated to the strategy of design, assisting museums and artistic institutions to develop their own language that helps to connect. She has done strategic projects for museums and cultural institutions, as well as carrying out research for the development of new publics. She is publisher in chief of Art Insights, collaborator of A*Desk and professor of Art and Communication of the Master of Current Art at the IL3 of the University of Barcelona.
Lara Baladi
ABC de la revolució
ABC de la revolució is the most recent of a large number of projects (actions in the media, works and publications) that have originated since 2011 in Vox Populi, an open code archive that gathers photographs, press articles, political satire, eye-witness testimony and videos on the Egyptian revolution of 2011 and other social protest movements worldwide. The design of this alphabet is inspired in the Egyptian and Russian school books of the 1950s, from which children learned to recognise the alphabet, with each letter being associated with an image. This structure becomes a complex visual essay that acts as a comment on the revolution of 2011 in Egypt, but expands to other social uprisings, reinterpreting the apparently "playful" nature of state teaching strategies while proposing the need to observe revolutionary processes with a critical perspective.
Lara Baladi, of Egyptian and Lebanese origin, defines herself as a multidisciplinary artist, archivist and educator, and lives in Egypt and Cambridge, Massachusetts, where she is a professor in the MIT science, art and technology programme. In her artistic practice, which started in photography, Baladi questions the authenticity and the authority of memory and time. Through processes of investigation in archives, sociopolitical narratives, mythologies and personal histories, her work covers analogue and digital photography, collage, video, multimedia installations, architectural, sculpture, tapestry and even perfume. In 2006, Baladi founded the Fenenin el Rehal artists residence (in Arabic, "nomad artists") in Egypt's White Desert. During the revolts in 2011 in Egypt she set up two communication initiatives, Radio Tahrir and Tahrir Cinema. She is currently a member of the Board of Directors of Townhouse Gallery, in Cairo, and of the Arab Image Foundation (AIF) in Lebanon.
Participating Exhibitors ArtsLibris 2019