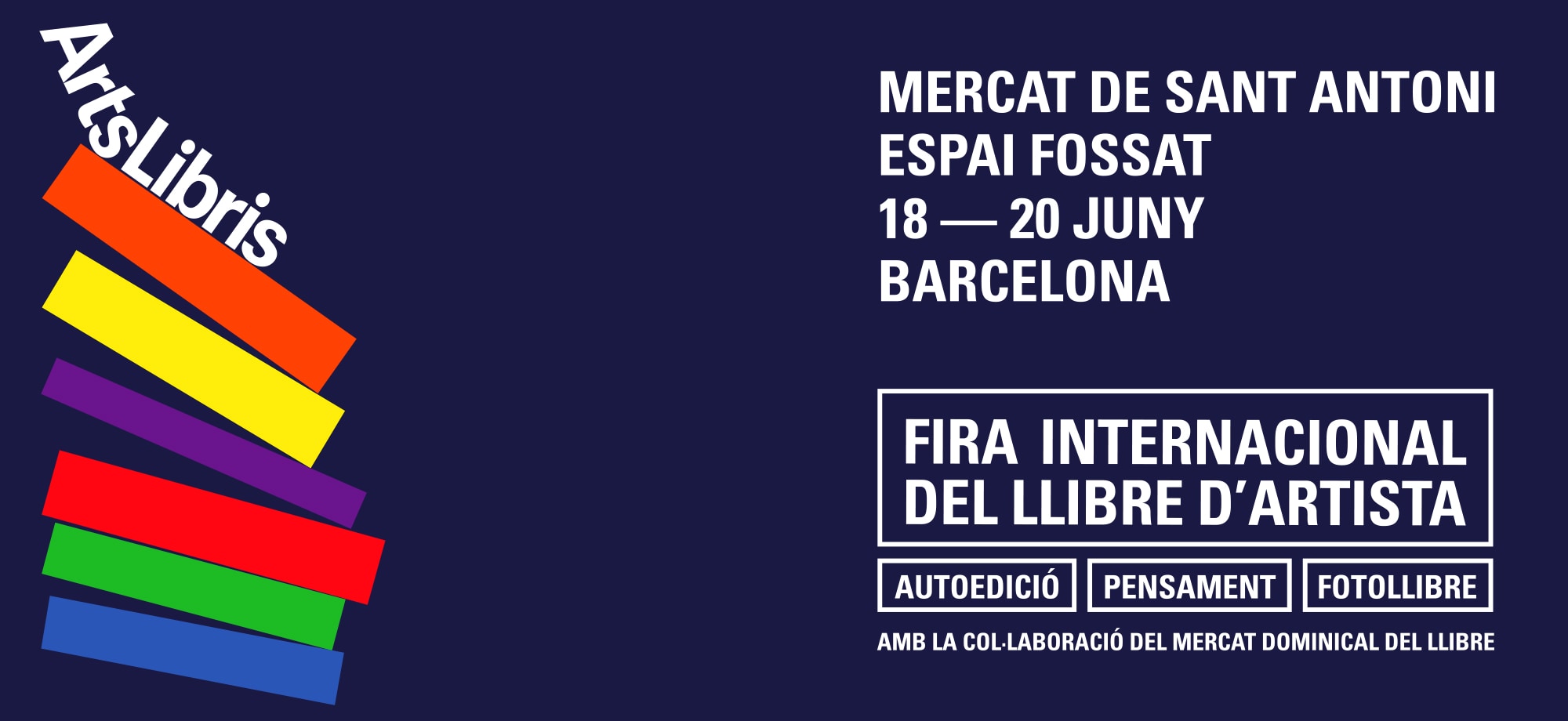 ArtsLibris
Barcelona -2021
ArtsLibris reaches its twelfth edition, which will take place on June 18, 19, and 20 in the "espai Fossat" of the Mercat de Sant Antoni, with the collaboration of the Mercat Dominical del Llibre.
Eighty-eight publishers and artists, institutions, and art schools of Barcelona will accompany us with their publications. Forty percent of the exhibitors come from outside the city, to whom we are especially grateful for the effort to be present.
Although some publishers and artists from Latin America and the rest of Europe will not be able to travel this year, their publications will. In addition, we will reinforce online activities to feel closer to those who will not be able to join us in person.
ArtsLibris kicks off on the 17th with the International Seminar, coordinated by philosopher Andrea Soto Calderón, which will take place at La Virreina Centre de la Imatge.
Public opening hours
Friday 18th June: 12 p.m. – 5 p.m. 
Saturday 19th June: 11 a.m. – 8 p.m. 
Sunday 20th June: 10 a.m. – 8 p.m.
INTERNATIONAL SEMINAR
Ways of doing
With the collaboration of La Virreina Centre de la imatge
Coordinated by Andrea Soto Calderón
June 17th
10:00h – 14:00h
La Virreina Centre de la Imatge
Sold Out 
The ArtsLibris' International Seminar is a space that aims to discuss artist publications and their place in creative processes. We propose to think collectively about the form of sensitive knowledge displayed in publications, often neglected and considered minor.
The knowledge that makes art possible is not so much to have new ideas but, as Vilém Flusser argued, creation means to develop new ideas during the process of making: forms and relationships that have their agency and appear during specific operations in production.
More and more, artists make editing an artistic practice. What implications do publications and ways of presenting have on the creative process of artistic practice? We propose to think about the devices of representation and the economy of the gestures that give public visibility to the artistic work.
SESSION 1
June 17th
10:00h – 11:00h
Introduction by Andrea Soto Calderón
Converstation between Oriol Vilapuig and Victoria Cirlot 
SESSION 2
June 17th
11:15h – 12:15h
Introduction by Andrea Soto Calderón
Conversation between Lucía C. Pino  and Itziar Okariz
SESSION 3
June 17th
12:30h – 13:30h
Conversation between Emmanuel Alloa and Andrea Soto Calderón
Andrea Soto Calderón (director)
Ph.D. in Philosophy, she is a professor of Aesthetics and Art Theory. Her research focuses on the transformations of aesthetic experience in contemporary culture, the study of image and media, and the relationship between aesthetics and politics. His recent publications include Le travail des Images, with Jacques Rancière (Les presses du réel, 2019), and La performatividad de las imágenes (Metales Pesados, 2020).
Emmanuel Alloa
Ph.D. in Philosophy, he is currently Professor of Aesthetics and Philosophy of Art at the University of Freiburg, Switzerland. His research focuses on contemporary philosophy, phenomenology, and the relationship between aesthetics and politics. His publications include La resistencia de lo sensible (2009), Pensar la imagen I (2020) and the monograph La imagen diáfana. Fenomenología de los medios visuales (2021).
Lucía C. Pino 
Lucía's practise seeks to present a queer optimistic dystopia. They work through mental space. Also, with sculpture understood in a broad sense, exploring materiality through processes of sculptural modification.
Works in collections include: MACBA Collection, Deposit of the Generalitat of Catalonia, DKV arteria, Utopicus Art, and Olor Visual-Ernesto Ventós Foundation.
Oriol Vilapuig
Plastic artist who mainly works from the language of drawing. His methodology is close to the essay. The matter of images, their possibilities, appearance, and statutes are constant in his work. Starting from tradition as the pre-existing dimension, his proposals use mechanisms of appropriation, quotation, and assembly to generate imaginaries around experiences related to the body, eroticism, loss, fear, or time.
Itziar Okariz
Visual artist, he works mainly from photography, video installation, and performance. Trained in Sculpture and Painting at the University of the Basque Country, she settled in New York for several years. Okariz starts from the critical positioning and the anti-capitalist logic developed by the Situationist International. His actions question the norms of language that define us as subjects and revoke the conventionalisms around morality, gender, and our configuration in the contemporary world.
Victoria Cirlot
Victoria Cirlot is a professor of Romance philology at the Faculty of Humanities of Pompeu Fabra University in Barcelona. He has devoted himself to the study of the Middle Ages: chivalrous and mystical culture. In the field of medieval mysticism, he has dealt with Hildegard von Bingen as well as other writers. He has been particularly interested in mysticism in the visionary phenomenon and the functioning of images.
ArtsLibris
Barcelona -2021
"In forms, there is a great transforming potential".
"Traditionally there has been a mistrust in the real capacity of art to open up other possible"
Andrea Soto Calderón, philosopher and professor of Aesthetics and Art Theory, leads the seminar "Ways of doing", a space for reflection around artist publications, in which she sees a fertile territory to explore dissenting forms that challenge the processes of standardization and allow us to imagine other possible realities.
Why the interest in the methodologies of artistic practices?
When I was invited to lead the seminar I thought that the contribution I could make had to do with a line that interests me a lot, which is the reestablishment of that quality of thought and knowledge that art has. Traditionally, art has always been seen as a form of experience, of sensibility, but it is not validated in its status of knowledge, and there is much distrust, even when we speak of critical art, of its real capacity to open up other possibilities or to make a critique, not only in the sense of denunciation but in the creative sense of imagining other spaces and other modes of representation. In this sense, it seems to me fundamental to think about the creative processes, in the ways of doing artistic practices where another imaginative gesture can be opened. Late capitalism acts by standardizing forms, intensifying mimesis, from the way we dress to the way we move. I think there is a battlefield here, a very broad field of another way of understanding how reality is configured, as Gérard Granel has developed in his analysis of what forms mean in capitalism. It is like rethinking that false left-wing debate on material culture, as if nothing were at stake in forms, as if they were an add-on or a decoration.
Forms are not innocent.
I start from the idea that forms are always material and that there is a work in the form that can certainly open another mode of experience, but above all, it can raise the capacity to imagine a reality that cannot be imagined. Fredric Jameson used to say that it is easier to imagine the end of the world than the end of capitalism, a phrase that has been read in many ways and then popularized by Žižek or Fisher, but which opens the question of what can be the place that artistic practices can have to open the territories of imagination in a time that appears to have no future. Therefore, for me, the question in artist publications is how things appear, how other relationships can be forged, the mechanisms that are there, the methodologies, the operations, the devices to operate certain maladjustments of a certain order that is presented to us as the only thing we have to live with. And there I see that the field of art, in particular, that device of how the works are presented, and how the processes are shown, has a very broad territory. Not only to work on the utopian, on that future to come but, as Rita Segato says, on what is more topical than utopian, that is, the territories it configures and makes possible.
Are artists more and more involved in this kind of practice?
Yes, but I think of Picasso's publications in which he was already playing with forms, he saw that there was a transforming potential there. The question that recently insists in philosophy is how an event opens up, how the new appear. For many thinkers, this opening has to do with a messianic cut, like a very radical overture. On the other hand, I inscribe myself in the line of those who, like Rancière, think that the event does not happen in stupefaction but small detours. I am very interested in these small gestures, this micro-logical work often opens up possibilities and indetermination.
What characterizes artists' books today?
I think that at the same time that art has ceased to be understood as a form of expression to become a field of exploration and research, there has been a transformation of how artists' publications are understood. And they are not the record of what happened in an exhibition, of what it was, of what Barthes talked about, but one more piece that is operating and generating its dynamics of thought. There is a kind of work in the margins or in what I like to call "sensitive notes of the artists". It's interesting the turn that ArtsLibris is taking by understanding that artists' publications are not only books but also web pages, brochures, videos, small posters. Those more bastard forms are left out of the great narratives of Art History.
One of the sessions is a dialogue between Cristina Lucas and Itziar Okariz, two artists who work with the body.
There is something in particular that interests me about both of them, and that is that, although their styles are very different, their work insists a lot on the question of inappropriate bodies. For me, the question of image and touch are always very much linked, and I am interested in the question of how bodies can object, how bodies always overflow, no matter how much they are normalized because they always find ways to contest the policies that are imposed on them. Right now bodies are once again placed under suspicion, it is precisely in the encounter of bodies that the possibilities for the unforeseen grow. And there is a second question that I think is also present in the work of both, the subterranean concern of how to move from individual actions to collective actions.  Many times the so-called minor aspects have been underestimated, in order to establish the belief that all order and domination comes from above, and the power of the one to one, the body to body, is underestimated.
Teresa Sesé
June 1st 2021 
SPEAKERS' ROOM / SPEAKERS' CORNER
A dynamic and flexible space for authors, publishers and members of the public to come together to discuss and share ideas.
This year we have around twenty presentations and activities that will take place in two spaces: one outside, still in the context of the fair – the Speakers' Corner; and the other inside – the Speakers' Room, situated in the Sala Polivalent del Fossat del Mercat de Sant Antoni (Polyvalent Space in the 'Fossat' (the 'Pit') of Sant Antoni Market). 
15:00
AL-Tiba
A discussion chaired by Mohamed Benhadj on the opportunities and challenges presented by digital publications and editions printed by artists and gallerists.
16:00
Art, technology, feminisms and free culture
Jara Rocha and Andrea Soto Calderón
This dialogue looks to Alteraciones, an edition Jara Rocha has collaborated on, which by drawing on various experiences reflects on devices and their role in the elaboration of literacy situations, the material circulation of languages and the conditions of possibility beyond proprietary publishing objects and processes.
17:00
Presentation of the book Fons perdut de núvols by Andrés Galeano
Andrés Galeano, Gisel Noè and Rocío Santa Cruz
Co-produced between MAC Mataró and Galería RocíoSantaCruz.
18:00
Boris Groys, La lògica de la col·lecció i altres assaigs
Manuel Fontán del Junco and Valentín Roma
A publication by La Virreina Centre de la Imatge and Arcadia.
19:00
Bookjockey
Chiquita Room
Chiquita Room exhibits in bookjockey format a careful selection of titles and new releases from this publishing house.
13:00
Publications Barcelona Production
Caterina Almirall, Sitesize (Elvira Pujol and Joan Vila Puig) and David Armengol
Presentation of a line of publications from Barcelona Producció-Centre d'Art La Capella. Conversation with Caterina Almirall about her book Esdevenir immortal y después morir, and with Sitesize about Serps d'aigua. Les rieres ocultes i la construcció simbòlica de Barcelona. Discussion chaired by David Armengol, artistic director of the Centre d'Art La Capella.
14:00
Máquinas de vivir. Flamenco y arquitectura en la ocupación y desocupación de espacios
María García Ruiz and Pedro G. Romero
This study by Pedro G. Romero and María García Ruiz presents a rich field of intersections between the modern radical avant-garde, before and after the Situationist International, and the social architecture projects that focused on the ways of life of gypsies, southern emigrants and urban lumpen.
Published by La Virreina Image Centre and Puente Editores.
17:00
Presentation of the book Son. Empremtes i figuracions a les Valls d'Àneu
Oriol Vilapuig
A publication in the format of an author's book that draws on the design of the Berenguer brothers. Published to mark Oriol Vilapuig's eponymous intervention at the Museu Nacional d'Art de Catalunya (March 2020 – April 2021).
18:00
Presentation Woman and Fiction, fifth edition of the AL Series.
Itziar Okariz, Moritz Küng and Rocío Santa Cruz
The performance artist and activist Itziar Okariz in conversation with Moritz Küng, curator and editor, and Rocío Santa Cruz, editor of ArtsLibris.
19:00
Presentation Pseudopanorama
Manolo Laguillo and Moritz Küng
Pseudopanorama is a book that brings together the most recent work of the photographer Manolo Laguillo.
Published by La Virreina Centre de la Imatge and Museo Universidad de Navarra.
12:00
Experimental Poetry and Mail Art in Mallorca
Ángela Molina and Imma Prieto
Conversation between Ángela Molina, philologist, historian and art critic, and Imma Prieto, director of Es Baluart, Museu d'Art Modern i Contemporani in Palma.
13:00
On Centres, Absolutisms and Feminisms
Tania Adam and Gloria Oyarzabal
To mark the release of her book "Woman go no'gree", Gloria Oyarzabal will converse with the journalist and founder of Radio Africa Magazine, Tania Adam. With the help of photographs and music, they will contrast experiences and views on the social and political construction of the imagery surrounding black and African women.
16:00
Muntadas Con/Textos III. A Critical Anthology
Victoria Sacco and Julia Ramírez Blanco
Released to coincide with the 40th anniversary of La Virreina Centre de la Imatge (1980-2020), this publication enters into dialogue with the exhibition Instal·lacions / Passatges /Intervencions, which was held in 1988 to mark the opening of the passage now connecting La Rambla and the Boquería market.
Published by La Virreina Centre de la Imatge.
SPEAKERS' CORNER PROGRAMME
14:00
Sóc totes les que he sigut
Teresa Grandas, Mar Arza and Valentín Roma
Teresa Grandas, art historian and since 1996 curator of exhibitions at the Museum of Contemporary Art, MACBA, will talk with Valentín Roma, writer, art historian, curator and director of the Virreina Centre de la Imatge, and the visual artist Mar Arza, on the occasion of the exhibition and publication of Fina Miralles at MACBA.
16:00
Presentation of the book Tocar el món
Talk with Norbert Bilbeny, professor and philosopher. Ed. Lapislàtzuli
Professor Norbert Bilbeny interrelates pictorial art with philosophy, literature and music and reveals how the great creators in history have left their mark on the world.
17:00
Presentation of the book Detenidos
Carla Cañellas. Ed. La Mirada Creadora
18.00
Presentation of the book Recuperar la luz
Rosa S. Ramiro and Carlos Canal. Ed. La Mirada Creadora
19.00
El oráculo de la serpiente. Ed. Poncianes
Author and poet Guillem Gavaldà reads from the book Pitón, by Guim Valls.
12:00
Abraza el error (Embrace the Error)
Erica Volpini, Silvia Renda and Ezequiel Soriano. Ed. La Escocesa
We will talk about the role of error in the creative process. Through hitches, glitches, inaccuracies and misprints we will present Ediciones La Escocesa and La Biblioteca Difusa, a collection where different artistic practices around the book as an object mix and coexist without distinction or hierarchies of value.
13:00
Juego del Auca al revés (The Auca Game the Wrong Way Round)
Thilleli Rahmoun, Erica Volpini, Silvia Renda and Ezequiel Soriano. Ed. La Escocesa
Auca a la inversa invites the reader to interact with the multiple histories – official and unofficial – about the Poblenou area of Barcelona. The game will see members of the public drawing on these histories to make connections between the poetic directions of the texts and the artist's paintings, while also searching for visual clues and profound meanings.
14:00
Recital Panoptik
Jon Viñaspre, editor de Lapislàtzuli
With poems by the Mallorcan-born Antonina Canyelles.
16:00
Presentation of Luis Izquierdo-Mosso's book, 20 Toneladas (Arte Contemporáneo para Turistas) [20 Tonnes (Contemporary Art for Tourists)]. Ed. Lapislàtzuli
20 Tonnes traces an impressive journey through the most striking works of contemporary art – those that have managed to shake deep-seated notions about art and made them fall on us like hailstones.
17:00
Succeeix cada dia [It happens every day]
Jordi Mitjà
Artist Jordi Mitjà reflects on the editorial aspects in the context of his exhibition at Fabra i Coats.
18:00
Serbal Pntic Mec
A musical 'performance' with various artists related to the participating fanzine. Estrella deejays at 18:00 and Elhixir at 19:30, plus some extra surprises. 
12:00
Presentation R40 Ediciones
Gonzalo Elvira, Yo Milne and Eduard Arbos
Artist and publisher Gonzalo Elvira will converse with Yo Milne and Eduard Arbos, artists participating in the project.
13:00
Paréntesis dominical: una conversación en tiempo real entre escritores, editores y libreros [A Sunday parenthesis: a conversation in real time among writers, publishers and booksellers]
Santiago Garcia Tirado, Toni Clapés and Pablo Fernández in collaboration with Mercat Dominical.
Epicentre of the bookselling barrio, the Sunday Book Market in Sant Antoni has always been a place of meeting, inspiration and discovery for artists, flyer distributers, writers, publishers, booksellers, bookworms, families, the old and the Young… A universe where books are collected and exchanged and where every Sunday popular culture congregates in its temple in Barcelona.
16:00
Paraules per engegar la màquina [Words to engage the machine]
Ed. Tinta Invisible
A poetry book with the work of thirteen poets. Some of the writers will be present and will give readings.
Bookbinding workshops given by students of the Conservatori de les Arts del Llibre – ESDA Llotja
Prior registration is required at info@artslibris.cat
FRIDAY 18 JUNE – 16:00 & 18:00
TURKISH MAP POP UP
Irene Hernández Delgado will show us how to make a book with the technique of stacking and gluing paper.
FRIDAY 18 JUNE – 17:00
SATURDAY 19 JUNE – ALL DAY
TALLER D'EBRU [EBRU'S WORKSHOP]
Mar Serrano will show us the Turkish technique of marbling.
FRIDAY 18 JUNE – 18:00
SATURDAY 19 JUNE – 12:00
ANIMALADAS
Moreno&Soria will draw on José Antonio Soria's book, Mundo Animal, to help those taking part create their own artist's book which they will be able to take home.
SATURDAY 19 JUNE – 16:00
STAMPING
Danna García and Aleix Porras will show us how to make little rubber stamps and gouges and create images and compositions.
SATURDAY 19 JUNE – 17:00
OPEN STITCH BINDING WITH "SEWN CHAINS"
Clara Ruiz and Carlota Ramírez will show us how to put together the hard covers of a book with chain stitching.
Mercat Dominical del Llibre Sant Antoni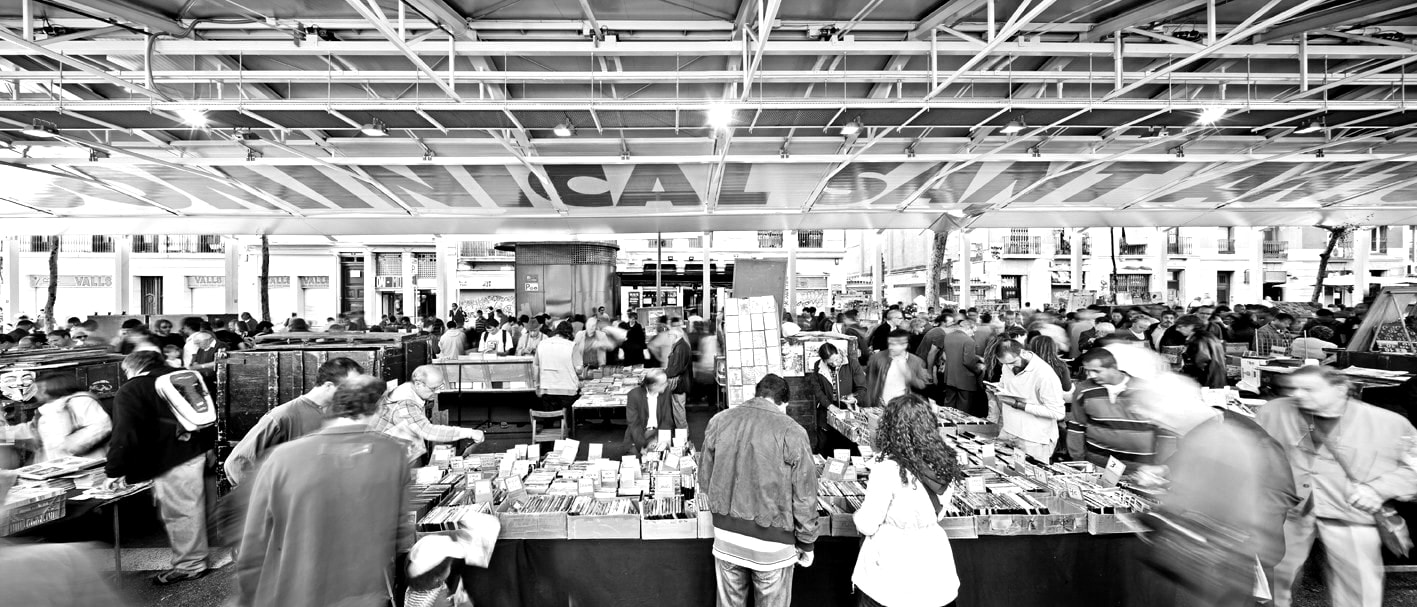 In this edition we join forces with the Mercat Dominical del Llibre de Sant Antoni. Apart from being present for the first time in ArtsLibris as exhibitors, they will celebrate their Sunday Book Market on Sunday 20, which will coexist with the ArtsLibris fair.
The AL Series is a collection of artist's books produced and published by ArtsLibris with the support of the Bank Sabadell Foundation.
ArtsLibris launched it with the aim of promoting the publication of new work by artists who have shown, in their previous production, a clear interest in the field of artist's books.
The chosen artist to do the publication of the AL series is Itziar Okariz (San Sebastian, 1965) with her book Woman and Fiction, edited by Moritz Küng and designed by Àlex Gifreu. Until now, the awarded artists have been Iñaki Bonillas (Mexico City, 1981), Martín Vitaliti (Buenos Aires, 1978), Javier Peñafiel (Zaragoza, 1964), Wilfredo Prieto (Sancti Spiritus, Cuba, 1978), Mariana Castillo Deball (Mexico City, 1975).
Itziar Okariz is known for examining, questioning and challenging the boundaries between what is private and what is public, on what she has researched over the past two decades in sculptures, videos, performances and vocal pieces. In her artist's book Woman and Fiction, she refers to two lectures by Virginia Woolf that later converged in the famous 'novel' A Room of One's Own. Widely regarded as a fundamental feminist text, the essay, somewhere between fiction and non-fiction, takes place at Oxbridge University, in which a female narrator examines whether women are capable of creation and whether they do indeed have the freedom to create works of the quality of William Shakespeare.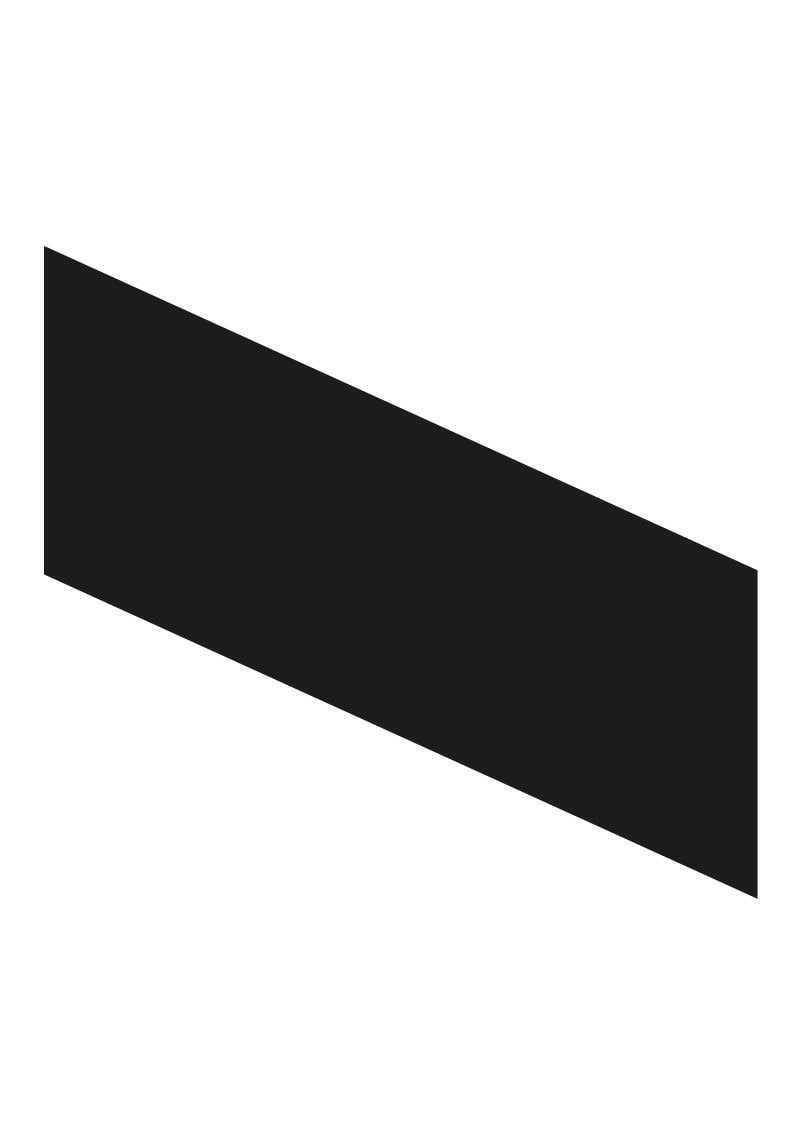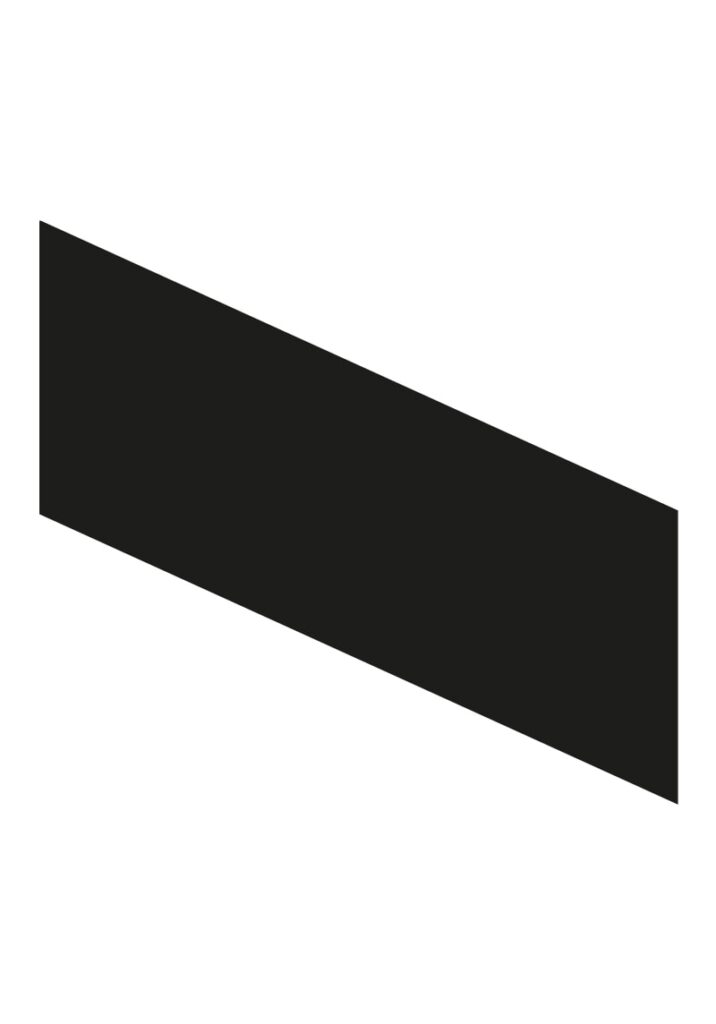 ArtsLibris expands its collection of cotton bags and gloves with the creations of Oriol Vilapuig. Starting from tradition as a pre-existing dimension, his proposals use mechanisms of appropriation, quotation, and assembly to generate imaginaries around experiences related to the body, eroticism, loss, fear, or time.
Àlex Gifreu and Cecilia Marín
Books Never Lockdown
This poster is the second in the series 'BooksNever…' created by Àlex Gifreu and Cecilia Martín, which will evolve and transform over the years –Books Never Lie, Books Never Breathe, Books Never Kill…— before culminating in a manifesto.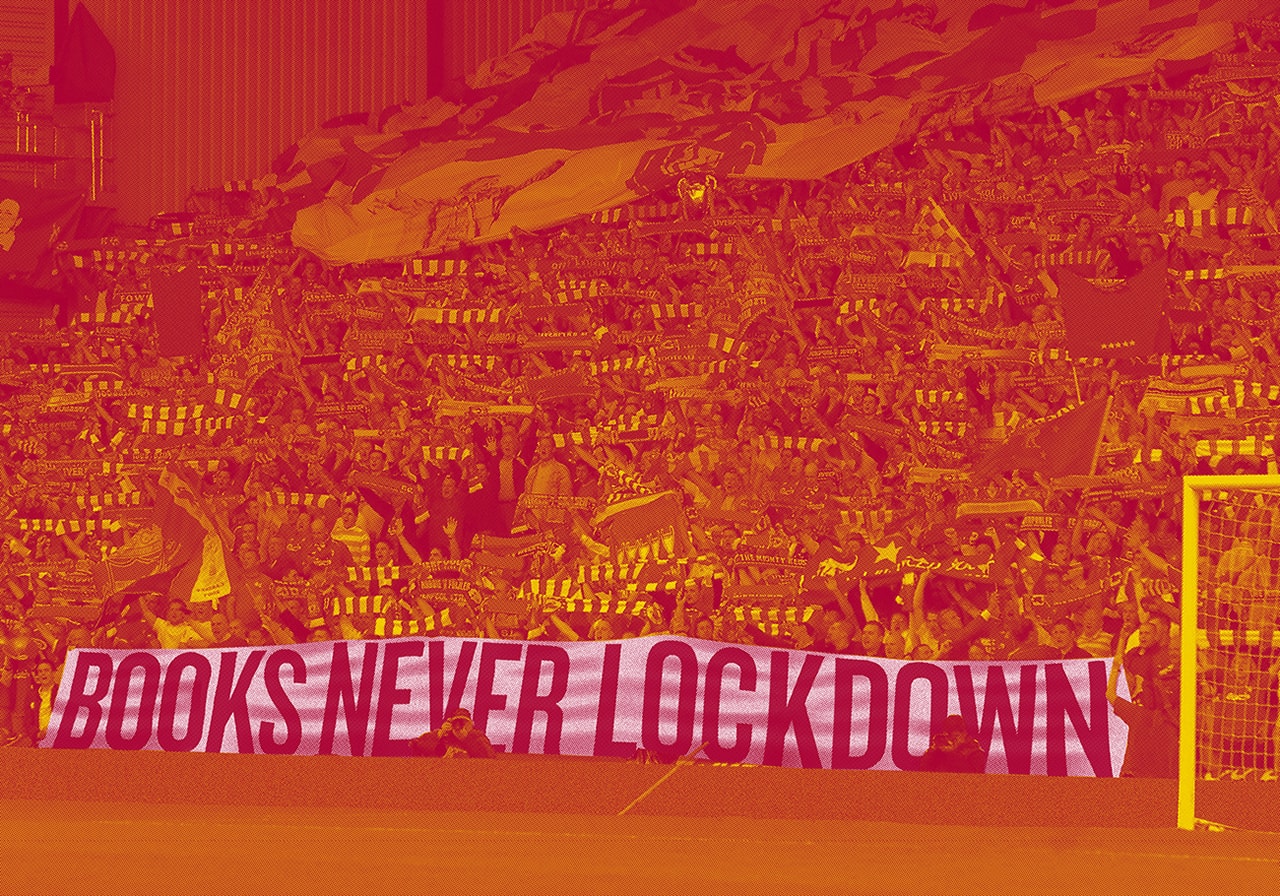 ArtsLibris Prize

Banc Sabadell
ArtsLibris grants each year the ArtsLibris-Fundació Banc Sabadell Award. This Award consists of the acquisition and incorporation into the Sabadell Bank Arts Collection of the editions selected by the jury. ArtsLibris is a fair with more than 11 years of experience in artist's books and publications. This award aims to foster publications which present an original connection between ideas and visual contents, which work with innovative edition formats, and which bring forward refreshing aesthetic contents and concepts. The track record of the authors in the field of edition or self-edition, as well as the cohesiveness and consistency of the artistic language which articulates the publication will be positively recognized.
Members of the jury:
Andrea Soto Calderón
With a doctorate in Philosophy, she is professor of Aesthetics and Art Theory. Her research focuses on the transformations of the aesthetic experience in contemporary culture, the study of image and media, and the relationship between aesthetics and politics.
Antonio Alcaraz
Professor of Fine Arts at the Universitat Politècnica de València (UPV). Head of the Department of Drawing and of the UPV's Collection of Artists' Books. 
Laura Pelayo González
With a PhD in Art History and Theory from the Universidad Autónoma de Madrid, she works in the Library and Documentation Centre of the Museo Nacional Centro de Arte Reina Sofía, where she manages the collection of documents deposited by artists, critics and art galleries. 
Moritz Küng
Exhibition curator and book publisher, he oversaw the international art campus deSingel in Antwerp (2003-2011), where he designed projects such as "Curating the Library".
Pepe Font de Mora
Head of the Fundació Privada Foto Colectania. Founder and director of Foto-Galería Railowsky in Valencia (1985-2001), he also curates photography exhibitions and has sat on the jury of various awards, including the Premio Nacional de Fotografía.
Itziar Okariz
A visual artist working mainly in the field of photography, video installation and performance. Trained in Sculpture and Painting at the Universidad del País Vasco, she worked in New York for several years.